Swell Spots
Swell Spots began as mini-solutions for the big challenge of lymphedema. News spread, and professionals now use them to meet a wide range of rehabilitation needs, such as problematic areas of swelling, tissue fibrosis and contouring over and around bony prominences. Wherever there is a pocket of swelling, there are Swell Spots to fit the job.
GREY FABRIC vs BLACK FABRIC
Most Swell Spots use two different fabric colours: grey and black. Both colours promote comfort with their breathable, wickable, and thermal release properties, but the grey fabric has something else too. The grey fabric has tiny microfibers that grip the skin and encourage a gentle tissue stretch which plays a key role in opening the initial lymphatics. So remember to wear the grey side against the skin - "the black is the back".
HOW DO SWELL SPOTS WORK?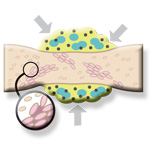 1. Unique foam particles in Swell Spots create localized tissue pressure differentials to stimulate interstitial fluid movement, prevent stagnation, and soften indurated tissue.
2. The foam particles nestle into tissue to create localized tissue stretch and pressure differential.
3. Tissue stretch opens up gap junctions drawing in excess interstitial fluids and wast products into the lymphatic system.
MATERIALS:
Fabric: Nylon, Polyester, Lycra blend.
Foam: Medical grade Polyurethane.
CONTRAINDICATIONS:
Arterial insufficiency or degeneration

Deep Vein Thrombosis

Untreated congestive heart failure, localized or systemic infection, or cancer.

Absent or severely impaired sensation.
There are no products listed under this category.